Grow your Instagram followers with these tried-and-tested strategies
Yado Team – Social Media Marketing
27 November .  5 min read
Instagram can be a highly-targeted marketing hub for your business and an opportunity to build a dedicated fan base around your brand. 
Like with any social network, there are many ways to grow your follower base on Instagram  – some effective, some moderately so, and some – a total waste of time.
In this post, you will learn how to most effectively use Instagram to amplify your account' reach and grow a legion of engaged followers. 
Identify your target audience
Knowing your target audience is a cornerstone of a successful social media marketing strategy. If you don't know the characteristics of your target audience, your social media content creation efforts may as well be washed down the drain. They simply won't deliver the impact you are after because effective content is informed by the attributes (both behavioral and demographic) of your target audience, no matter which social platform you are using to promote your brand.
If you want to identify your target audience on Instagram, the platform's native analytics tool Instagram Insights is a godsend for that. It is super intuitive to use and provides you with a wealth of invaluable information about your business account from your follower demographics to your reach and engagement stats. Once you have identified your current audience in terms of demographics, you can target accounts with similar characteristics to follow you.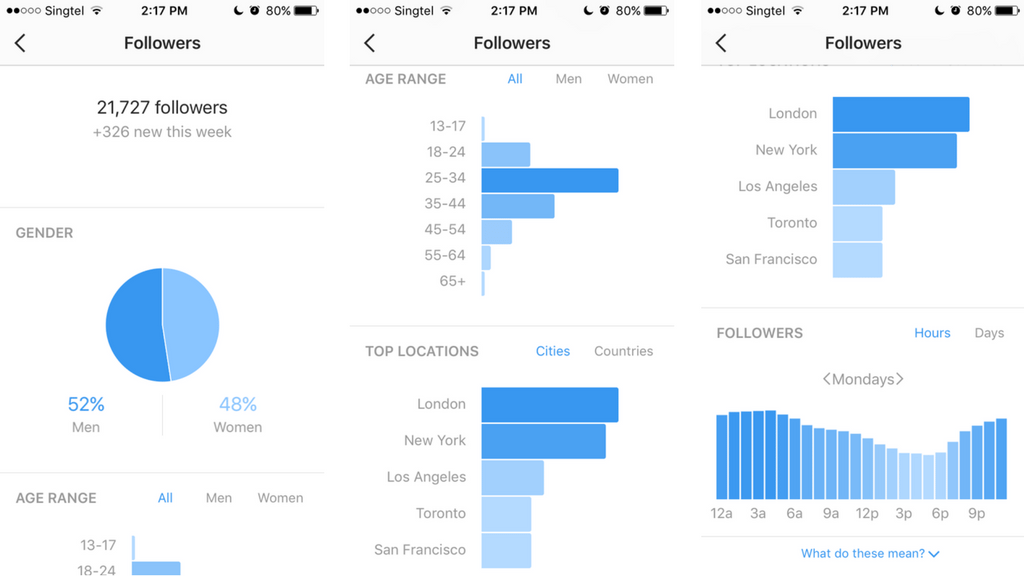 Get visual
Social media revolves around content, and Instagram – around visual content. Instagram users are hungry for visual stimulation and their hearts are won by accounts who can satisfy this hunger with attention-grabbing images and captivating feeds. If your feed is boring and your images lack that HD crisp and color pop, very few people are going to follow your account and engage with your content. 
To get the most out of Instagram, combine captivating images with an inspiring story behind the image or interesting facts. This approach is called visual storytelling, and successful brands such as National Geographic know its power. 
Be strategic in your hashtag use
Hashtags play a crucial role in driving engagement and growing your followers' ranks on Instagram.  Using popular and relevant hashtags can significantly amplify your account's' reach which will, in turn, attract more followers. 
However, stuffing your captions with the maximum amount of hashtags is a bad strategy as it can result in adverse consequences, especially if you tend to use the same hashtags across all of your posts. Although Instagram has said that using multiple similar hashtags should not affect your visibility, there is a chance that the platform's algorithm might pick up your overly-hashtagged posts as spam and impose a "shadowban", which renders your posts undiscoverable in the corresponding hashtag feeds.
To get the most out of your hashtags, document the ones that your target audience and your competitors are using and use them sparingly. 
We recommend to include a balanced combination of branded, niche- or product-relevant hashtags plus hashtags that are specific to the post. 
https://adespresso.com/blog/how-to-get-1000-instagram-followers-in-one-month /
Engage with your audience
Far too many brands make the mistake of  treating Instagram as a free ad space. But first and foremost, Instagram is a social network. So, being social by interacting with your audience is key to both reach and engagement growth.
That's why it is important to take time and acknowledge your audience's comments and answer DMs, both positive and negative. By doing so, you are showing that you care about what they have to say, and care is an indispensable prerequisite for fostering brand loyalty. 
It is also a great chance to educate potential followers about your brand as they might ask a question on one of your posts to learn more about your products/services before they honor you by subscribing.
Amplify your reach with Instagram Ads
While it's totally possible to grow your Instagram followers organically, using ads can significantly speed up the process.
Instagram allows you to create a variety of ad types including photo and video ads, carousel ads, mapped-guided ads, and of course, story ads. Plus, the platform has a very comprehensive and powerful advertising system which allows you to target people based on a wide range of demographic and behavioral factors. 
If you set the right targeting parameters for these ads, you will amplify  your chances of finding the right followers. 
Use Instagram Story Highlights
If you want to increase your Instagram reach or grow your following, you will benefit tremendously from the Stories feature. Brands report 2-3 times more engagement with Instagram stories compared to regular posts. This is hardly surprising since stories offer a more detailed perspective on the brand giving users more 'substance' to talk about.
Instagram allows you to pin your Story Highlights to your profile right above your feed, so they are perfect for educating your visitors about what your brand is all about. And if they like what they see, they may just decide to follow you!
Write a snappy bio
When potential followers land on your profile page they want to know what your brand is all about and why they should care – a succinct yet informative bio is a great way to let them know. So, make sure you give it due diligence by taking time to come up with a snappy line or two about your brand making sure to highlight the value you bring to your customers. 
It is also a good idea to include a link to one of your pages. It could be a link to your homepage, online store or another social media profile.  Since Instagram doesn't allow you to link through your posts, your bio is the only way to drive visitors to your website from Instagram.
Write engaging captions
Captions are a powerful tool that can be used to encourage engagement with your posts. And if they accrue enough engagement, they might even show up on the Explore Page where users can click over to your profile page (where they can follow you).
When it comes to crafting your Instagram captions, less is usually more (although there are exceptions). Most people come to Instagram to engage with visual content, not to read extended text updates. So, a short paragraph or a snappy one-liner is a good goal to aim for.
Post when your audience is at its most active
Posting on Instagram at the right time could make the difference between your post being seen by a few dozens of users or several thousands or even millions. Therefore, it is important that you roll your content at the times when your target audience is at its most active. 
To this end, you could test out the times of your highest engagement based on Instagram Insights. You can find this information by clicking "learn more" in the Followers section of your Instagram Insights dashboard. This will open the page where you will see your followers' demographic information as well as the graph showing hourly fluctuations of your followers' activity for every day of the week. Alternatively, there are also third party apps that can suggest optimal posting slots based on your historical data. 
Build trust with user-generated content 
Sharing user–generated content (UGC) is a great way to foster brand love and build a dedicated online community on Instagram. Moreover, user-generated content is seen as more trustworthy compared to conventional advertising – 92% more trustworthy, to be exact.
So, don't be afraid to reach out to your followers and ask them to repost their content that is relevant to your brand. 
Here are some excellent examples of effective brands' use of UGC. Just look at how much engagement these UGC posts generated!
Tag people to boost engagement
Tagging people on Instagram is a fast and easy way to elevate your engagement game organically, that is without using ads. When you tag your existing followers in your post, they will get a notification which prompts them to click over to the post increasing the chances that they will engage with it by liking or commenting. 
Once again, the more engagement your posts accrue, the higher their chances are to end up on the Explore Page where they can be found by your potential followers. From there, your profile's "Follow" button is just a click away.
Having a large follower base on Instagram can boost your brand awareness, generate conversion-oriented leads, and ultimately result in higher revenues. Besides, a significant follower count acts as 'social proof' for your brand making it look more credible in the eyes of potential customers. If you use the aforementioned tools and strategies, we guarantee that your followers' ranks will skyrocket in no time.
Yado Team - Social Media Marketing 19 February .  5 min read Direct marketing is one of the best forms of distributing information because there is instant reach to your target market. As other methods such as telemarketing and regular mail delivery dwindle,...
Yado Team - Social Media Marketing 19 February .  5 min read Direct marketing is one of the best forms of distributing information because there is instant reach to your target market. As other methods such as telemarketing and regular mail delivery dwindle,...
Yado Team - Social Media Marketing 18 February .  5 min read Viral social media videos are the stuff of marketing dreams. A viral video has the capacity to launch a brand from relative obscurity to international fame. They can rewrite people's opinions on a brand they...
Yado Team - Social Media Marketing 17 February .  5 min read No one knows better than the people at Yado.io just how much work goes into running a social media campaign. It can be a total pain…extremely confusing…overwhelming. There are so many different platforms out...
Yado Team - Social Media Marketing 20 February .  5 min read In 2016, Instagram stories launched and gave marketers an entirely new way to engage their audience. Currently, with over 500 million daily users, Instagram stories are a great way to engage your current...
Yado Team - Social Media Marketing 19 February .  5 min read Thousands of emails from various companies, people, and brands are sitting in my mailbox as I type this blog. For most of these messages, they will remain unopened until I 'spring clean' my digital media and...
Yado Team - Social Media Marketing 17 February .  5 min readSince the birth of social media, it has transformed from being a few apps on our phone that we check occasionally, to the must-have technology that the public really can't seem to live without anymore. With...
Yado Team - Social Media Marketing 12 February .  6 min read If your niche or industry involves being an authority on a given topic, Quora might be right for you.  Quora is a fast-growing website that allows millions of users to ask and answer questions. Many of the...
Yado Team - Social Media Marketing 12 February .  5 min readIf you want to improve your social media presence, you should start with Instagram. Small improvements can quickly take your channel from ho-hum to exciting and engaged. Insta-users are passionate about...
Yado Team - Social Media Marketing 08 February .  5 min read Creating marketing personas is a fantastic technique to help businesses connect with their audience, help them produce more customer-oriented communications, and ultimately, convert more sales.  In this...
Yado Team - Social Media Marketing 07 February .  5 min read Remember those good old days when you'd just go online, scroll down your social media feed and see all the posts in reverse chronological order? Those simple days are long gone. These days social media...